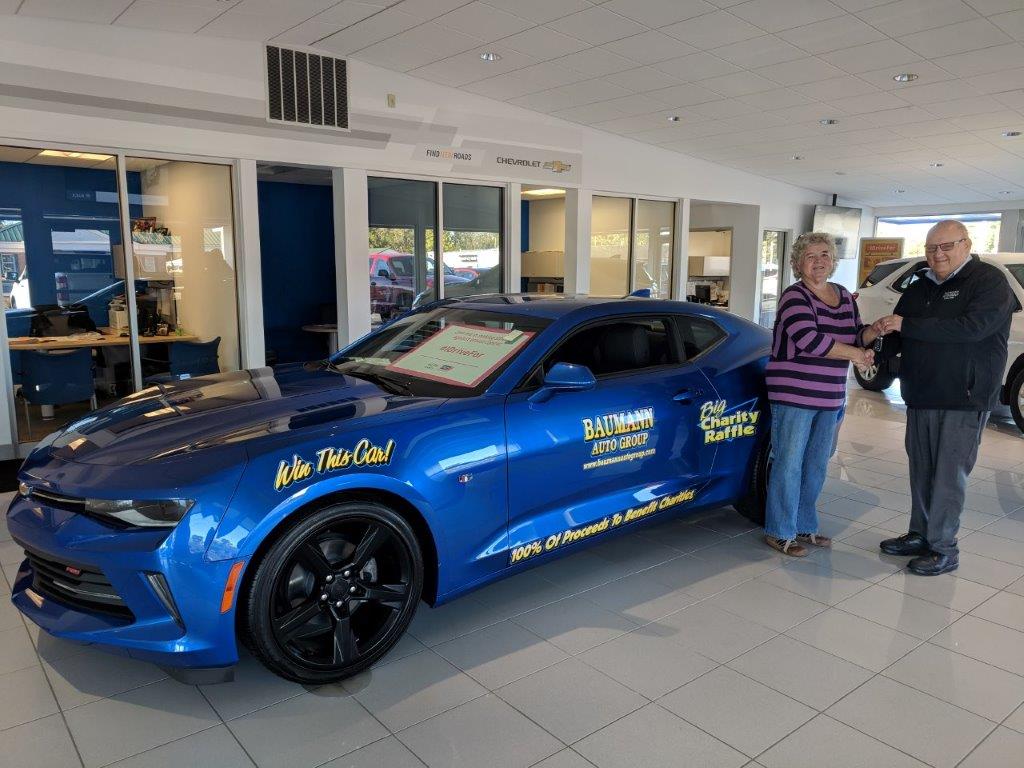 The 16th Annual BAUMANN AUTO GROUP BIG CHARITY RAFFLE was a HUGE SUCCESS!  We raised $59,170 for 20 local charities!!  Congratulations to Janice Netcher, winner of the car.
Twenty area charities were the big winners from this special event. They include Liberty Center of Fremont, ProMedica Hospice of Fremont, First Step of Seneca, Sandusky, Wyandot & Wood Counties, Safe Harbor of Sandusky, NAMI of Seneca, Sandusky & Wyandot Counties, Ruth Ann's House of Port Clinton, SCAT of Tiffin, Community Hospice of Tiffin, Easter Seals of Northern Ohio, CASA of Sandusky, Seneca & Wyandot Counties, Riders Unlimited, Back to the Wild, The Salvation Army of Ottawa County, Sandusky County Cancer Care Fund, F.A.C.T. of Seneca County, Parker's Purpose, Genoa Area Food Bank, Arc of Ottawa Co., Oak House of Port Clinton and Village House of Fremont.  The Baumann Auto Group dealerships and the twenty charities sold $5 raffle tickets for a chance to win a new 2018 vehicle.  100% OF EVERY TICKET SOLD WENT TO CHARITY! 11,834 TICKETS WERE SOLD!! The Baumann Auto Group donated a "brand new" 2018 vehicle for the Grand Prize.  The winner had a choice of a new Chevy Camaro, Dodge Challenger, or a Ford Mustang.  The winning ticket was drawn on Oct. 13, 2018 at Al Baumann Chevy Buick in Fremont.  The winner was Janice Netcher of Elmore.
In the past 16 years The Baumann Big Charity Raffle has raised $973,002 for local charities.  We raised 59,170 this year. To all who participated we would like to say Thank You & you are all winners!  


Look for us in the spring of 2019 to kick off the 17th Annual BAUMANN BIG CHRITY RAFFLE!